Harvest Christian School Fundraiser
Harvest Christian School Fundraiser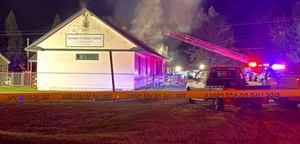 On September 3, 2020, this bible based school caught on fire, days before school was to begin. The fire broke out in the attic of the elementary building and sustained significant damage to the structure.
They do not receive any state or federal financial support.  The staff, students, and families continue to need support and prayers from people in the community.

Our Table Talk Outreach family wanted to contribute to Harvest Christian School. We are hosting a fundraiser to show our support to this Christian school's staff, students, and families.

Starting Wednesday, November 4, at midnight, we will be kicking off our fundraiser thru Saturday, November 7, ending at 11:59 PM. 
Visit our website at www.tabletalkoutreach.com.
Click on Collection: Harvest Christian School. 
Table Talk Outreach will give the profits from the Collection that will benefit HCS.
When CHECKING OUT you have the options of ...
1. Ship to yourself or someone else.
2. STORE PICKUP at our Finlayson location.
3.  STORE PICKUP at Harvest Christian School on Tuesday, Nov. 10th.
Option 1:  SHIP IT OUT!  Choose SHIPPING during the CHECKOUT process.  You can put in a different address if it's getting shipped out to someone other than yourself.
Option 2:  PICKUP in Finlayson  - make sure to choose STORE PICKUP > Go to the > CALENDAR and select the DAY and TIME  that works for you to PICKUP from our Finlayson location.  2191 Hwy 18, Finlayson, MN - Pull in the drive way and we will bring it out to you.  ( TEXT US or CALL 952-855-3888 when you are here.    Look for the sign  (2191 Store Pick Up >)
Option 3:  PICKUP at Harvest Christian School on Tuesday, Nov 10th. 
A. Select STORE PICKUP > Go to the Calendar and Click on Nov 10th/11th and CHOOSE  A PICKUP TIME.  (The time you choose doesn't matter.  We are using these dates to reference people picking up on Tuesday Nov 10th.) 

Check out our Facebook and Instagram accounts for more information, specials, announcements, and more. Sign up for our REWARDS PROGRAMS and receive special perks.

We are here to answer any questions you may have at info@tabletalkoutreach.com.

From our table to yours, with Love,
The Table Talk Outreach Family