Fall Colors and Apple Pie
Fall Colors and Apple Pie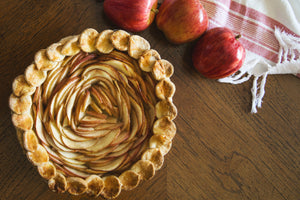 The fall season has arrived in full color. October reminds us that it's time to think about a family outing to your local Apple Orchard. Minnesota has some of the best Apple Orchards around. You are sure to find yummy treats, Minnesota fall colors, giant pumpkins, bright red and green apples, and even a hayride.
The Apple Orchard was one of our favorite fall events to plan with our kids when they were younger. Our boys loved to run through the corn maze, ride the train and hayride, pet the animals, pick out a large pumpkin, pick some apples, and drink hot apple cider.
Apples always take me back to fond memories of my grandma, making a homemade apple pie. She made everything from scratch. The apples were sweet and picked from the trees on grandma's farm. She used a pastry blender for the pie crust and her favorite spatula for mixing. She would have used an oven liner to catch any drippings from the pie if she could have. (I included her apple pie recipe below. )
Fall is an excellent time for families to connect, get outside, pick some apples, and make a new or old family recipe. Please take a few pics and add to your current recipe book, or it's a great time to start a new family tradition and a family recipe book. Happy apple picking!
Old Grandma's Apple Pie Recipe
Ingredients - Apple Mixture
7 med sized (Granny Smith) apples  or 6 cups,  peel and sliced
¾ cup of sugar
2 rounded tablespoons of flour
½ tsp of cinnamon
Preparation
Mix all together, so apples are all coated.
 Let stand while mixing pie crust.
Ingredients - Pie Crust 
Pie crust for a Double Crust 9" pie
½ cup of shortening
1 ½ cups flour (plus enough to flour surface for rolling out crust)
¼ cup of warm water
 ½ tsp salt
Preparation
(Bake at 350 degrees for one hour, or until pie is golden brown.)
Mix shortening, ½ cup of flour, water, and salt with a spatula until smooth.  Cut in remaining flour with a pastry blender until crumbs form.  Form into a ball just until it holds together.   Do not over mix or crust will be tough.  (Gram's note:  Crust rolls out nice because it's warm.) 
Divide in half and roll out on a floured surface. (Note: Try not to stretch the dough as it will shrink when baking.  You can also patch any tears in the dough.)  Place in the pie plate.  Add the apple mixture.  Roll out the top crust.  Wet the edges of the bottom pie crust before adding the top crust.  Pinch the edges of the pie crust together and tear off the excess crust. Using a paring knife and fork, make cuts for vents. (Gram used to make a large "A" with a paring knife and star designs with a fork.)  Brush some milk or cream on top and edges for added moisture—dust with cinnamon and sugar.