Teas with Benefits
Teas with Benefits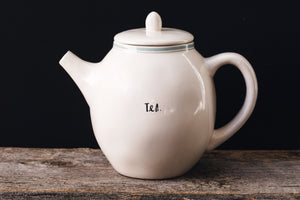 The benefits of tea go beyond the cup. Tea has always been a staple in our cupboard.  We have different flavors stocked year round. Sometimes we brew a hot cup for comfort.  Other times, we are trying to give our immune system a good punch of healthy antioxidants.  Or simply, to enjoy a cup of hot tea with a friend or family member.  Tea is like any other food or drink, it can bring back joyful memories shared with loved ones.  Maybe there is a special tradition you keep, for example, a tea party held with your daughter as you did with your mum or dad as a little girl.  Maybe it's the generations that gather around the table to take part in conversations, laughter, and story telling.  Or simply to enjoy being in the moment while sipping on your special tea blend.   
Teas are also paired well with a fresh baked scone or dessert.  My Aunt Kate has a beautiful tea set that she received from dear friends during her stay in England.  When we gather at her table it's a treat to sip from a beautiful gold trimmed tea cup with a pattern of red and pink roses.  She decorates the table with dessert plates, and freshly baked scones.  She goes out of her way to make you feel special.  The ambience takes you to a quaint cafe in England.   There is no right or wrong way here folks to partake with a cup.  It's your choice if you want to sip a cup with a side dish, a friend, or while reading your favorite novel.  Ask my husband and he will suggest his favorite slice of pecan pie. And by the way...he doesn't like to share.  LOL!
Another great quality of tea is the health benefits.  Teas are known to add some healthy goodness when sipping a cup.  Depending on the cup of choice they differ.  They are not a cure all.  Let me get my disclaimer in while we're talking.  Check with your doctor if you have health concerns.  This is for information purposes only.  I am not a physician and don't claim to be. Now that said, lets look at a couple of teas and their benefits.  I'll also list the teas we carry on our online store.
During the month of November we will be sharing more information about Rooibos tea.  Here are a few benefits of the Rooibos tea.  It's found in our Cinnamon Rooibos, Rooibos, and Blueberry Rooibos tea we offer online.
Contains a flavonoid called Quercetin which helps to prevent the trigger of allergies.  It's like taking an antihistamine med without being drowsy.  This is not to replace advanced allergy treatments.
Rooibos also contains bioactive flavonoid, chrysoeriol.  Due to the anti-inflammatory and antioxidant effects works as a bronchodilator.  In other words, helps to relieve the feelings of coughing and wheezing brought on by asthma and allergic rhinitis. 
Rooibos tea is caffeine free.  You can have a cup before bedtime and no worries of falling fast asleep.
Hormones and Medications: If you are a person with breast cancer, hormone sensitive diseases, or on medications, you may want to consult with your doctor before consuming rooibos tea.   
Next week, we will look at the health benefits Rooibos tea offers with heart health, diabetes, and digestion.  Stay tuned.
Teas on our online store. 
They come in Bee Gift Boxes - 4 count, Large Bags - 12 count, XL Bags - 24 count, & Single serves
Apple Cinnamon Spice, Blueberry Green, Blueberry Rooibos, Chai, Cinnamon Rooibos, Earl Gray, English Breakfast, Ginger Lemon Zest, Green, Lavender Lemonade, Peach Black, Pineapple Green, Rooibos,