Blueberry Galette Recipe
Blueberry Galette Recipe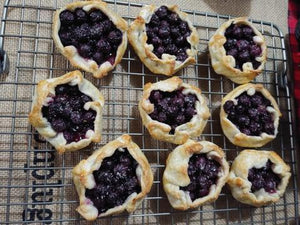 1 pint blueberries
1/4 cup sugar, sanding sugar for sprinkling on top
2 tablespoons tapioca 
1 teaspoon vanilla 
Pinch of salt 
Zest of 1 lemon 
Juice of 1/2 lemon 
2 store-bought pie crusts (or 2 homemade pie crusts) 
1 egg whisked with 1 tablespoon water
Directions:
Preheat the oven to 425 degrees F. Line a baking sheet with parchment paper.
In a bowl, stir together blueberries, sugar, tapioca, vanilla, salt and lemon zest and juice.
Cut the pie crusts into 6 circles with a 4 1/2-inch round cutter.(The round cutter can vary depending on how big or small you want to make them.)  Lift the circles onto the prepared baking sheet. Place about 1/4 cup of the blueberry mixture into the center of each circle. Gently fold over the edges to cover approximately 1 inch of the filling.
Brush the egg wash around the edge of each pastry. Sprinkle the crusts with sanding sugar and bake until the crusts are golden and the filling is bubbly, 15 to 20 minutes.  (Baking time will vary if you alter the size of the round.)  Ovens can vary in time.