Salmon Rounds
Salmon Rounds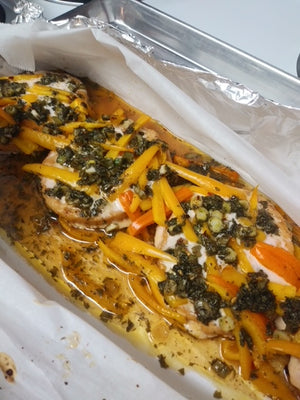 Salmon Rounds 
Serves (4 round salmon patties)
Marinade for the Salmon Patties/Fillets
Juice of 2 limes
1/4 cup fresh parsley, chopped ( substitue with dried parsley)
2 tbsp avocado oil  ( I have also used canoila or olive oil )
2 tbsp Water
4 cloves garlic, chopped (I have also used precut garlic in the gar.)
1 tsp Cumin
1 tsp sea salt
1/4 tsp black pepper
1 tbsp honey (raw if you have it)
4 salmon patties (I use a brand from Costco - 
1-2 whole Peppers - Pick the colors (green, red, yellow or orange) you like and cut them up.  I like to cut them in strips and lay in the pan or dish.
1 small to med white or yellow onion (I like to cut in slices)   
Directions:
Marinade - combine the ingredients together (except the salmon patties, peppers and onions).
I use a large rimmed cookie sheet.  1. I lay a large sheet of aluminum foil down (enough to bring together and crimp in the middle when you are all done.)  2. I lay a piece of parchment paper of top of the aluminum foil, 3. lay the patties down 4.  spread the onions and peppers on the cookie sheet ( I like to lay some on top of my salmon patties as well.) 5.  Spread the marinade over the patties, peppers and onions. 6.  Bring the sides of the foil together and crimp.  7.  Put in the over for 30 minutes on 350 degrees.  8.  Open the foil a bit and cook for a bit longer 10 - 20 minutes.  (Monitor to see if it needs longer or shorter time.  Each oven varies on temperature.)
We like to serve this with a side of rice and a salad.
If you  have any questions please post them.  We look forward to hearing from you. 
From our table to yours with LOVE!
Kristina